Deciding on Wedding Day Hairstyles for Bridesmaids at Hair Lab Hair Salon in Basingstoke
Are you getting married soon and wondering how your bridal party should be wearing their hair? Or are you a bridesmaid and struggling to find a wedding day hairstyle that suits your personal style and taste?
Don't panic! At Hair Lab we will tailor a bridal hairstyle that is unique to you. From plaited hairstyles for weddings, tousled waves or romantic wedding day curls check out our guide to bridal hairstyles for bridesmaids brought to you by the wedding and bridal hair specialists at Hair Lab hair salon in Basingstoke.
What Wedding Day Hairstyle Should I Choose?
The bridal hair experts at Hair Lab hairdressers in Basingstoke highly recommend a pre-wedding hair trial, allowing you to try different styles to find a look that is perfect for you.
Create a mood board and showcase your hair inspiration by tearing out your favourite bridal hairstyle photographs from magazines, or create a Pinterest board for us to look at. This is without a doubt the best way to share your wedding hair ideas, and allows our team of wedding hairdressers in Basingstoke to get a real idea of how you want your wedding day look to be.
Why not enjoy some quality time with your friends whilst at the salon and pamper yourselves with a conditioning hair treatment or big bouncy blow dry? A wedding hair trial is also an ideal time to discuss having a hair colour or glossing service to brighten up your style for the big day?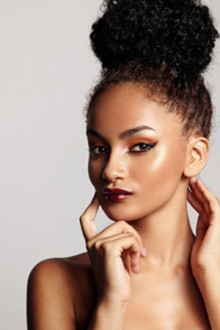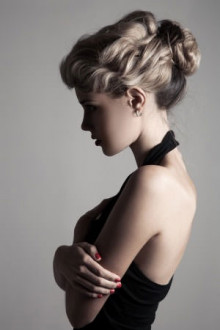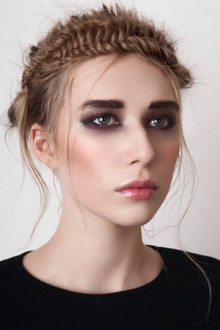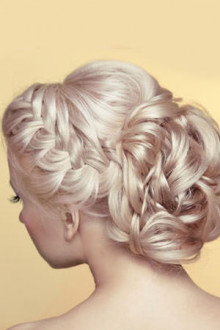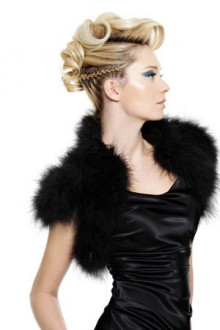 Popular Curled Wedding Day Hair Ideas for Bridesmaids
Curly hairstyles for bridesmaids are really versatile and a great way to allow each person to have a slightly different look.
Choose from big, bouncy curls, tousled beachy waves or opt for the modern half up half down wedding day hairstyle. The curls can be tailored and tweaked so they vary on each bridesmaid – perfect if one wants corkscrew curls while the other prefers softer looking curly hairstyles.
Plaited Hairstyles for Bridesmaids
Wedding day plaits are great if your bridesmaids vary in age as you can adapt them to look young and fun. Plaited wedding hair or twists can be incorporated into any wedding day hair style and can really jazz up a sleek simple tied back bridal look.
The simple easy addition of a twist or delicate plait instantly glamorises your look and are a great idea if your hair is too short to tie up.
Messy Bun Hair Ideas for Bridesmaids
The ballerina bun hairstyle is a modern-day classic and is a great wedding day look for bridesmaids as it is super versatile and lends itself to all hair types.
Wear your bun low in the nape of the neck for an elegant look or higher up on the crown for a more Bohemian hairstyle. For a messier bun hairstyle pull strands loose with your fingers.
Hair Up Ideas for Bridesmaids
Hair up styles for bridesmaids needn't be pinned up tight to the head they can be worn loose and relaxed creating a modern bridal up do. Cute buns, feminine ponytails, intricate plaits and gorgeous half-up do's are all on-trend hairstyles for bridesmaids.
Hair Accessories for Wedding Hair
At Hair Lab hair salon in Basingstoke we believe that any hairstyle can be made to look wedding friendly by simply adding some fabulous hair accessories.
Why not add fresh flowers to your wedding hairstyle or add a bit of sparkle to your chosen bridal look with the addition of a diamante headband or glittery hair clip.
A simple tied back hairstyle can be jazzed up and made to look wedding ready by adding a ribbon or delicate bow.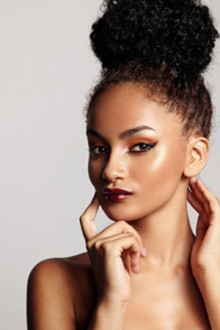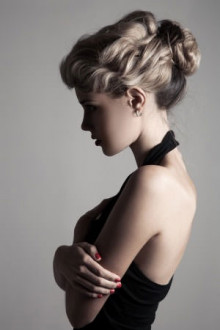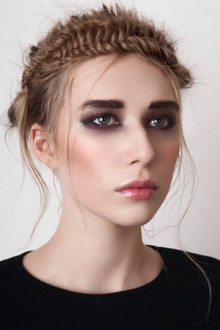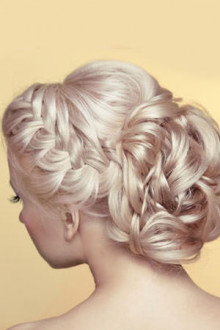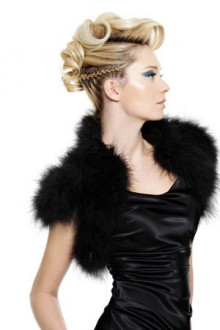 Visit the Wedding Hair Specialists in Basingstoke at Hair Lab Hair Salon
Call us on 01256 700 670 to book your bridal hair appointment from the experts at Hair Lab.