Cool Faded Men's Hair Cuts at The Hair Lab at HAIR LAB Salon in Basingstoke
Thinking off changing your gents' hairstyle? If you're stuck in a rut with your current gents' haircut, take heed of this article which gives you the most fashion-forward faded hair styles for men.
Fiercely challenging the more traditional gents' hairstyles such as the classic short back and sides, men's faded haircuts are very popular. Able to be tailored to achieve a variety of looks, including the low fade, mid fade and high faded gents' hairstyling.
Beards are here to stay during 2017, so if you are looking for a contemporary men's hairstyle that works well with a beard or facial hair, then the fade is perfect for you.
For each style of fade your talented hair stylist at The Hair Lab hairdressers in Basingstoke will expertly use clippers to go from a very short length or even bald skin, and graduate up to a longer length towards the top of the head.
So, if you are looking for the best barbering and male hair cutting services in Basingstoke at The Hair Lab hair salon in Basingstoke we have you covered.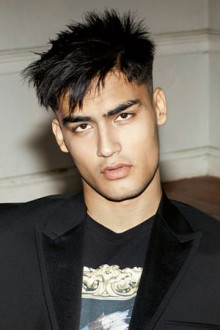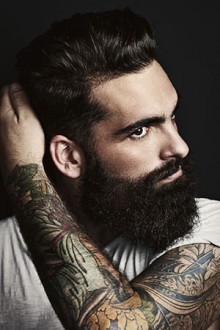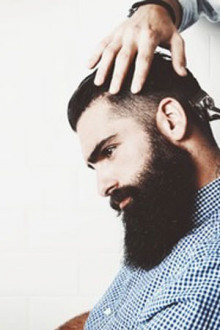 The Low Fade Cut Hair Trend for Men at HAIR LAB Salon in Basingstoke
This men's haircut is very cool and looks super slick. This fade is left low and very short and starts to blend into more length around the temples.
The short length makes it easy to maintain and this style looks great when you work in a little texture for a messy, understated look. Leave hair longer on top to be worn slicked back for a polished and groomed men's hairstyle or left to dry naturally to create a tousled men's hair look.
The Mid Fade Cut Hair Trend for Men at Top Basingstoke Hair Salon
The mid fade hair trend for men starts typically above the ears, making it distinctive. This blends perfectly into wavy hair as well as looking great with straighter hair too. When it comes to styling curly hair, straight hair and everything in between, our expert stylists can show you the right hair products and give you some great styling tips.
The team at Hair Lab hairdressing salon in Basingstoke recommend you leave your hair to dry naturally and add a styling lotion to achieve a tousled men's hairstyle. Wear it with a deep parting and combover for a top trending men's fade hair cut.
The Skin Fade Hair Cut Trend for Men The Hair Lab at HAIR LAB Salon in Basingstoke
For a dramatic fade hair cut that is daring and strikes an obvious contrast between lengths, opt for the skin fade hairstyling technique. This low maintenance yet stylish hairstyle for men gives a severe and strong look – going from bald to a longer length.
The quiff hairstyle has been a popular hairstyle for men over recent years – keep your quiff as big as you like but make sure you ask for a skin fade to bring it up to date!
To achieve an edgier look to your hair cut why not add a streak of hair colour to your men's hairstyle? At Hair Lab our talented hair colourists can recommend hair colours and techniques that will work best for you and enhance your look.
Book Your Gents' Hair Appointment At The Hair Lab at HAIR LAB Salon in Basingstoke
If you are in doubt as to which style will suit you, talk to your stylist at HAIR LAB – we can help you work out the perfect hair cut for you. Book in for a fresh new men's hairstyle at our Basingstoke hair salon by calling us on 01256 700 670.